The College Library was established in the year 1880 along with the establishment of the College. The main building of the College was commissioned for use in 1885 and the library was shifted to one of the halls of this building in 1886. During the centenary celebration of the college in 1980, a centenary memorial extension to the main building was constructed and the library was shifted to this new building where it is presently located. It occupies a total area of more than 14,000 sq ft and is spread over three floors. It has a seating capacity for 250 users at a time.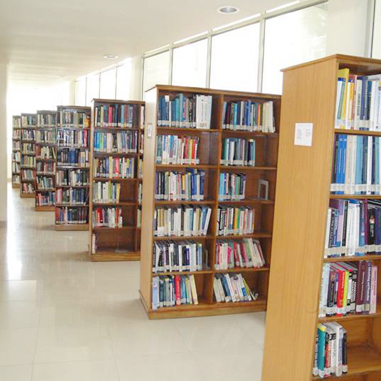 Over the years, the library has stacked with carefully chosen books for the use of the staff and the students. At present, the library has over 87000 books and bound volumes of journals covering a wide variety of subjects. It also receives over 230 current journals on various subjects. The library subscribes N-LIST, DELNET, PROQUEST and J-GATE databases, which contained many e-Books and e-Journals.
Technical Processing of Books
Classification & Cataloguing: The College library uses Dewey Decimal Classification Scheme for classifying the books. Classified Catalogue Code is used to prepare the catalogue entries in the library software.
Use of software for library automation: Easylib – An entire automation system for libraries: As the name indicates, it is a comprehensive automation system for libraries. Library is fully automated using this commercial software. Bar-coding is used for book circulation.
OPAC & EPAC: Online Public Access Catalogue and Electronic Public Access Catalogue are available in the library.
Reference Service: A well furnished reference section is maintained in the library where staff and students can pick the book of their choice and make reference. Important textbooks, Encyclopedias, Dictionaries, Reference Books, Multiple volume sets, Dissertations, Question paper sets etc. are displayed in this section.
Periodicals Section: Newspapers and periodicals are kept in the periodicals section. Students and staff can read and refer to the periodicals and, if required, ask for photocopies. Library receives more than 230 journals and magazines.
Post-Graduate and Departmental Libraries:
PG Library: To cater to the needs of Postgraduate students and teachers a separate PG Library was established in the year 2001. The library is housed in a spacious hall in the Maffei Block of the College. It is a fully automated Open Access library and uses the Easylib Library Management Software for the library automation. There are more than 22,000 books and the library receives more than 80 journals.
AIMIT library: The AIMIT library spread over an area of more than 30,000 sq.ft. and located in the Academic Block of the off campus of the College at Kotekar, Beery. This is an Open Access library where staff and students can consult books and journals. There are more than 25000 books and about 1600 project reports. The library receives more than 90 journals and 30 magazines, of these 60 are also available online. About 5886 online journals are available through EBSCO and ProQuest databases. The library is also the member of IEEE and provides online facility for browsing and reserve books. The library is open from 8 in the morning to 11 p.m. and also kept open on Sundays and holidays
Konkani Institute Library: The Konkani Institute of the College was started in the year 1980. As the first step towards the propagation, development and preservation of the Konkani language an exclusive Konkani Library was established which has now grown to more than 9000 volumes and receives a few Konkani journals. This is purely a reference library having old and rare collection of books.
Laboratory of Applied Biology Library: The Laboratory of Applied Biology was started in the year 1981 and along with a library is also established. The library is having more than 850 books and receives 30 research journals.
Digital Library Service:
1. DELNET: Development Library Network is a registered society promoted by the National Informatics Centre, Department of Information Technology, Ministry of Communications and Information Technology, Government of India and the Ministry of Culture, Government of India. DELNET offers access to more than a million bibliographic records that are accessible through various union catalogues and databases. The main objectives of DELNET are to promote resource sharing among the member libraries, develop a network of libraries, collect, store and disseminate information. The College library is the member of DELNET and makes use of the inter-library loan and article search facility. – http://www.delnet.in
2. N-LIST – is a digital library facility of National Library and Information Services Infrastructure for Scholarly Content. Our college library has been a participating member of this network. More than 6000 e- journals and more than 31,35,000 e-books are available on this database. World E-Book Library is the world's largest e-Books collection in which over 30,00,000 e-Books, e-Documents, e-Journals and audio e-books are available. It is designed to support academic research at all levels, in all subject areas by providing unabridged e-Books. The College Library subscribes this World E-Book Library through the N-LIST – http://nlist.inflibnet.ac.in
3. PROQUEST: DELNET ProQuest E-Journals Consortium provides full-text scholarly journals and dissertation in support of the study of management theory, practical applications, policy, functions and strategy. More than 130 scholarly full-text journals and 15 full-text Indian journals are available in this service. – http://http://search.proquest.com
4. J-GATE E-JOURNALS: J-Gate is an electronic gateway to global e-journal literature. J-Gate is the most comprehensive database & gateway to access research information from over 56 Million journal articles with access to 11 Million full text articles covering multiple subject domains such as; Agriculture & Biological Sciences, Arts & humanities, Basic Sciences, Biomedical Sciences, Engineering & Technology, Social & Management Sciences. http://www.jgateplus.com
5. INTER-LIBRARY LOAN (ILL): Interlibrary loan is a service whereby a patron of one library can borrow books and other information resources or receive photocopies of documents that are owned by another library. DELNET is offering inter-library loan & Document Delivery Services to its member libraries. The College library is the member of DELNET and makes use of the inter-library loan. ILL requests can be registered online for books.
The College is also the member of American Center, Chennai. The center consists the collections of multidisciplinary American books, journals, reference materials, U.S. government publications, and think tank reports. Our library users can borrow the resources which are available in the Union Online Catalog of American Libraries.
6. National Digital Library (NDL): The National Digital Library is an all digital library that stores information about different types of digital contents including books, articles, videos, audios, thesis and other educational materials relevant for users from varying educational levels and capabilities. It provides a single window search facility to access digital contents currently existing in India as well as other digital sources under a single umbrella. At present more than 80 lakh digital resources are available at no cost. https://ndl.iitkgp.ac.in
7. SAC Repository: Many old and rare books are available in the library dating back to 1618. Mangalore Magazine is a rare publication of the college dating back to 1897, which is preserved in the library. To preserve these rare and precious resources an Institutional Digital Repository is planned and an attempt is made to digitize these resources. http://136.233.78.185:8080/saclib/
Staff :
UG Library:
Mr Udaya, MLISc, SLET, NET– Librarian
Ms Gracy V. Monteiro, B.A., MLISc., Library Asst.
Mr Avil D'Souza, B.A., Library Asst.
Ms Reshma Kunder, B.A., MLISc., Library Asst.
Ms Priya Precilla D'Souza, DLISc., Library Asst.
Ms Revathi, DLISc., Library Asst.
Mr Joylan James Lobo, B.Sc., Library Asst.
Mr Edwin C.R. Menezes, Attender
Ms Celine D'Costa, Attender
PG Library:
Mr Udaya, MLISc, SLET, NET– Librarian
Ms Sunitha Machado, B.A., MLISc., Asst. Librarian
Ms Shashikala, DLISc., Library Asst.
Ms Jyothi Priya, B.Com., Library Asst.
Ms Sushma, B.A., DLISc.- Library Asst.
Ms Martha Sunitha D'Silva, Attender
Mr Alwyn Pereira, Attender
Ms Preethal Relita Castelino, Attender